Hardeep and Henry: The Definition of Dedication
By Mike Moledzki, Service Delivery Manager, RES/CIC.
When you ask for what the definition of dedication to your job is on Google, you should see these pictures of these two gentlemen.
I have had the great pleasure of working with Hardeep Khaneja and Henry Chanthanong for the past two years. I have seen them grow from hard-working site guards to the office professionals they are today. These two individuals put in countless hours calling and working on scheduling the residential/commercial sites. They put in 110% every day, working long into the late night to make sure everything is fully covered.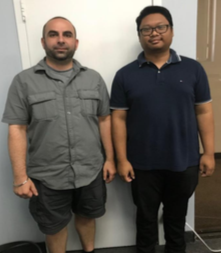 They are always ready to head to a site to lend assistance and guidance. These two deal with difficult decisions daily and always put in every effort to complete these tasks. They never complain about working late, even when it puts a strain on the personal lives. They work as a team, always being supportive to each other, leaning on each other in challenging times, always calmly answering the phones with the utmost professionalism and building their relationships with the guards.
I have heard many times when they call guards saying "Hey, I have this last-minute request for a guard, can you help us out and cover?" without a second's pause, the guards say "Yes sir, of course, no problem for you." This kind of rapport is not given freely; with months of dedication. they have been able to gain the trust and respect of not only the guards, but the entire management team.
I wanted to let you all know the importance of these two gentlemen and their contributions to the Toronto Residential/ Commercial sites of ASP
I say to you THANK YOU, Hardeep and Henry. Without the two of you putting in the efforts you do, we would not be able to enjoy the success we have had this past year. Please all join me in thanking these guys the next time you hear them calling. Keep up the hard work guys – you know it does not go unnoticed.
Employee Excellence, Employee Spotlight