ASP and the Power of Teamwork
By Jim Catney, Vice-President, Aviation and Transportation.
Teamwork…it plays a critical role in building and sustaining successful businesses and work environments.
Our team continues to grow and it is important that we continue to welcome new team members and assist them in adapting to their new company and with being successful in their new role.
"Great things in business are never done by one person; they're done by a team of people." – Steve Jobs
Our team collaboration and growth over the last several months has resulted in many new employees in Ontario and Alberta. It is exciting to see the newly created teams continue to develop and reflect our ASP values and culture.
The entire ASP team is responsible for our recent successes and we should all be proud. For us to continue to grow, we have to make sure that we continue to work together effectively and support each other in our various roles within the organization.
"Our destiny is not written for us, it's written by us" — Barack Obama
How can we improve teamwork at your work location? How can you assist? Do you have any recommendations for team building activities that we can consider to implement?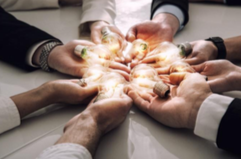 I am interested in hearing back from our employees; email me your ideas/comments on "Teamwork" at jcatney@security-asp.com.