Ramakrishna Malkapuram, Training Coordinator
By Sean Gallagher, HR Recruitment Manager
This quarter's article highlights the career of Ramakrishna Malkapuram, and his long-standing dedication to ASP
As an employee with ASP for over nine years, Ramakrishna's initiative has enabled him to continuously grow within the company. Prior to his years with us, Ramakrishna began his career in Security with the Superior Court of Justice in 2009 – the place where his passion for security and law enforcement began.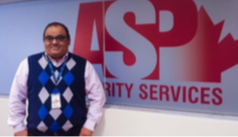 Ramakrishna Malkapuram, Training Coordinator.
Interested in Aviation, Ramakrishna sought a role in Access Control with ASP in 2010 at Billy Bishop Toronto Centre
Airport. It took him less than a year to shine as a leader for our company, as he was shortly thereafter promoted to Supervisor at Toronto Pearson International Airport (Toronto Pearson). Ramakrishna continued to grow and develop until his next challenge was accepted.
In 2015, Ramakrishna was chosen to participate in the Behavioral Recognition Training course – a requirement for all Specialist and Canine team members. It was at this point when Ramakrishna continued to shine and display his ever-present interest in advancements within ASP As a result, he was selected as a Casual Specialist at Toronto Pearson. In 2016, Ramakrishna was selected as a Casual Access Control Training Coordinator, to provide support to David Ramlagan as guard volume increased.
It was here that it became obvious Ramakrishna's knowledge in policy and procedural requirements made him an excellent choice for Training Coordinator, alongside David Ramlagan, and in 2018, Ramakrishna was made the permanent Training Coordinator for the Aviation Security Division in Toronto Pearson.
"Ramakrishna has been one of the most dedicated members of the ASP team and continues to set the bar high, by accomplishing his set goals with an unwavering, positive attitude that some deem absolutely infectious in the work place, making him an absolute pleasure to work with. He is the definition of passion and work ethic, which is continuously recognized through numerous awards and promotions throughout his years with ASP"
Ramakrishna, thank you for everything you do daily for our company!
Employee Excellence, Employee Spotlight