Thanks for Your Help, Fanny Tran!
By Noah Thompson, Senior Manager, Customer Service
ASP takes great pride in our efforts to support client safety initiatives. We recently received the following commendation for one of our CSRs, Fanny Tran, at Toronto's Billy Bishop Airport.
"I'd like to acknowledge Fanny's safety observation and addressing the unsafe work practice of a ramp employee in the check-in area last week and yesterday. Fanny's awareness of safety and addressing this is important and commendable.
Thanks for your help."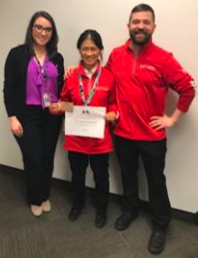 At ASP, we take a safety-first approach to everything we do and will continue to support our client operations with vigilant "see it, report it" focus in our day to day work.