RES/CIC Infrastructure Growth
By Cliff Sampogna, Regional Manager
As you all know, the residential and commercial division continues to grow immensely.
With growth comes infrastructure change and growth as well. These changes have inspired positive change and growth that has allowed our team to take the next step and add new members to the management team.
I wanted to take this opportunity to welcome Doug McBride to the team as the new Service Delivery Manager within the Residential and Commercial division.
Doug has spent the majority of his career within the security industry, working in various roles. He has worked for organizations such as IBM in a corporate security environment as well as the contract industry in senior management roles. With Doug's almost 30 years of experience, he brings a level of professionalism that will allow our team to continue to learn and advance the division's skill set.
I also wanted to welcome Richard Haldane to the team as a member of the divisional recruitment team.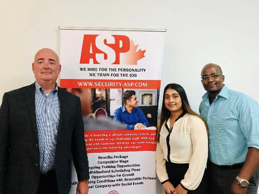 Richard comes to us with a background that specializes in recruiting and people management. He has worked in the recruitment industry for more than 10 years, which includes working as a specialized consultant. Richard also possesses a Ph. D. in Psychology, which allows him to truly understand people on a much deeper level. I am looking forward to Richard's experience lifting us to the next level.
Last but not least, I would also like to welcome Nirushika Sethulingam to our division as a member of the administrative team.
Nirushika is a very ambitious and driven person with a strong background in administrative support and expertise. Nirushika is bringing a very rare skillset to our team that is going to provide an opportunity for our division to perform on a level that is second to none. Nirushika will bring knowledge, experience and a mindset that will allow our team to become even more detail oriented and organized, which will assist the field management team. I am looking forward to Nirushika providing a unique skillset within our team.
I personally welcome Doug, Richard and Nirushika to the team, and I would like everyone to take this opportunity to welcome them to the team.
Residential and Commercial News