Spotlight: Connor Murray
By Michael Moledzki, Service Delivery Manager - Residential/Commercial
I would like to take this time to recognize a Union Station guard that has been with ASP since the start of the contract on May 21st, 2017.
Connor has worked very hard to be punctual, courteous and always be available to help the team when they need him.
Connor was recently recognized by the City of Toronto for their Q1 CS Applauds award (Customer Service Cause for Applause).
Connor, along with two other Union Station employees, worked collectively to identify and communicate with a patron who was showing signs of distress at Union Station. After establishing that the patron spoke a dialect of Arabic, Connor contacted his Control Operator, who in turn contacted GO Transit Safety requesting an Arabic-speaking Transit Safety Officer to attend for translation. After this officer arrived on scene and was able to ascertain the patron's name, they found that the person was reported missing by Toronto Police Service. Arrangements were made and transportation was given to the patron and she was able to reunite with her family.
Connor's diligence and professionalism directly impacted this patron's safety and well-being, resulting in a positive experience and outcome.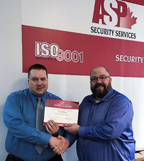 Congratulations Connor! ASP and your fellow guards applaud you for this award.