Spotlight: Kayvin Montaner, Service Delivery Manager – OSR
By Sean Gallagher, HR Recruitment Manager
Kayvin has been an ASP employee for just under three years now and has done nothing but impress the management level every step of the way.
He didn't start with ASP; 26 years ago, he came to Canada from the Philippines at the age of 13. Kayvin has always had a passion for customer service and he really showed that at the age of 17 when he took a summer job at Disney World in Florida. This position really helped sculpt the manager he is today.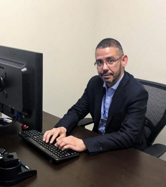 Kayvin graduated as an industrial mechanic technician from Humber College. After his apprenticeship, he felt that Customer Service was his calling. He moved around different industries within customer service for his first 15 years, gaining experience with companies such as Wal-Mart, The Keg, Ikea and Home Depot. The common theme throughout these companies was how fast he moved up through management levels.
Just before joining ASP, Kayvin was a Territory Manager with Microsoft. In this role, he was really able to combine his technical background with his customer service passion.
Kayvin joined ASP the day we took over the OSR contract at Pearson Airport. He spent just two months learning our corporate
culture before being promoted to a supervisor. It didn't take long for Kayvin to be promoted to the Shift Manager role in late 2017.
Kayvin has done nothing but impress his managers throughout the years and it really was an easy choice to select him for the Service Delivery Manager position. Kayvin has built solid relationships with all of the agents, supervisors and shift managers. It's very rare to see an employee who puts everyone else before himself and who really has a vision for where this division can go.
Kayvin, we are lucky to have you and cannot wait to see what you do for the remainder of this year!