Social Media – Benefits of Social Media for Business
By Petra Nash, Executive Assistant
Social media networks are now a substantial part of every business in one way or another, and the benefits of using social media are great.
Social Media provides increased brand awareness. It is the most cost-effective digital method used to syndicate content and increase business visibility. When a company implements a social media strategy it ultimately increases the brand recognition.
Every post made on a social media platform opens up a world of new contacts you can connect with. Posting three times a week lets employees and clients learn more about your business. Whether it is available career opportunities, new initiatives, or a motivational quote, social media will allow you to get your message to your following in just minutes.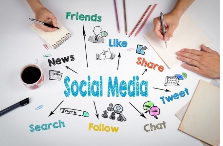 Unlike awkward phone calls or lengthy emails, social media can also be beneficial when it comes to customer service. In a business where customer service is a high priority, having social media as a platform to connect with employees and clients lets us resolve any questions more efficiently. This leaves the employee happy, which in turn allows for better customer service. Providing quick and responsive posts on social media can not only answer a question an employee was asking, but it can also help someone who is frustrated. A quick get-to-the- point answer may increase your customer service meter.
Employees and clients are always looking for new updates from the companies they follow. By providing consistent, concise and credible updates, our following will strengthen and expand. Follow us on Twitter, Facebook, and Instagram for updates on employment opportunities, employee engagement, ASP activities etc.