Teamwork
By Josh Holowatenko, Recruiter, Residential/Commercial Division
As a member of the National Dodgeball Team, I know how important teamwork is. Even the smartest and most talented person could fall short without teamwork. With that said, teamwork is pivotal in the workplace.
Over the last month, the ASP Residential/Commercial team demonstrated proper teamwork, communication, and unity. With the team dealing with several challenges after starting one of ASP's largest contracts and losing an important member of the team for this contract, the RES/CIC team stepped up. This group had sacrificed and were dealing with multiple consecutive weekends, 12 hour days, an overwhelming amount of phone calls, and the rolling out of a new phone application, along with much more.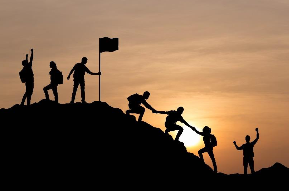 Through this stressful time, instead of breaking down or crumbling, the ASP Residential/Commercial team stepped into each other's roles. Everyone helped everyone, from Managers helping Administrators to Operations helping with Recruitment. This team stayed "in the trenches", as our Regional Manager would like to say. The team worked through adversity and never gave up.
I have never been so proud to go to work, and I have never had a team that is willing to sacrifice so much to ensure success. From on the court to off, ASP is one of the greatest teams I have had the privilege to be a part of. The sky is the ceiling for ASP and I look forward to seeing what the future holds for this company and this team.
Residential and Commercial News