United Airlines and ICTS Europe's partnership goes from strength to strength, continuing a 25-year business alliance
19 August, 2019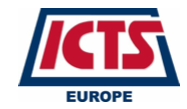 ICTS Europe has been re-awarded United Airlines' pan-European contract for provision of enhanced aviation security services at twenty-two locations across ten countries.
"We are pleased to have selected ICTS Europe as our security provider in Europe and to continue our long-term business relationship. ICTS has played a key role in UA's success in Europe and we appreciate the loyalty, quality of service, innovation and proactive approach ICTS Europe has shown over the years. We look forward to continuing our partnership with ICTS" said Andrea Peralta, Managing Director Atlantic, United Airlines.
"The ICTS Europe Group first started working for United Airlines over twenty five years ago. It is with immense pride and satisfaction that we are still today the Airlines' trusted partner of choice. It is the spirit of ICTS that sets our Company apart and has allowed us to win this prestigious contract. It is our people who together enable the delivery of a quality and innovative service and who are committed to going the extra mile to make a difference." said Ronen Remetz, EVP Airline Operations, ICTS Europe.
This spring will see ICTS Spain and ICTS Czech extend their services with United Airlines at Barcelona Airport and Prague Airport respectively as well as ICTS Italy that will secure United's new route from Naples to Newark Airport.
Last year the ICTS Europe Group was responsible for the enhanced security of United flights departing from twenty European Airports.