Message from Dean Lovric, President and CEO
Congratulations to all our ASP teams on 20 years of Success!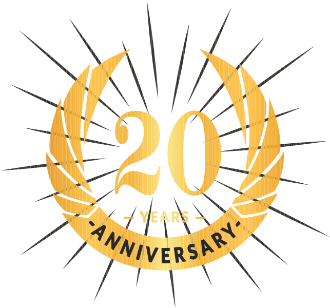 In 1999, I was seeking an opportunity to expand on the success of a fledgling company called Airfield Access Inc. (AAI) at Toronto Pearson International Airport. After careful planning and assessing of risks, I developed the business plan that would thrust a new company into the security service industry. That company became known as ASP Security Services and was established April 13th, 2000.
Twenty years ago, our business focus was strictly aviation. There was a significant niche that was not being sufficiently addressed; through recognizing where the gaps were and addressing them, we could make a difference. The difference proved to be the way the industry approached its clients and, more importantly, its employees.
The barriers to entry were enormous. Multinational conglomerates were guarding the entranceways to success and we needed to manage the enormous risks involved in operating within our newly chosen ecosystem. We looked for security professionals from the security industry, but mostly, we built our team from the world of aviation while leveraging existing resources from our sister company, AAI.
Our newly minted team depended on the reputation and resources of our sister company for support. We hoped that an industry, which needed reinventing, would open its market to us. We bet on our belief that the establishment of a culture of integrity and respect with the willingness to be accountable and transparent would thrive with our potential client base.
Finally, after months of effort, our team's hard work and dedication gave us the legs we needed to walk on our own. We did this by partnering with an incredible client base and a wonderful employee base, both of which we are still blessed to have.
Today we see and feel the unprecedented impact COVID-19 is having on our society.
| | |
| --- | --- |
| Inside This Issue | |
| HQ News | 2 |
| Employee Spotlight | 11 |
| Residential and Commercial News | 25 |
| Aviation News | 28 |
| Canine Corner/On the Lighter Side | 35 |
ASP was engaged and supportive during the most critical of times throughout the past 20 years, helping our clients get through the most catastrophic of conditions, such as the tragedy of 9/11, SARS, the Air France Flight 358 end-of-runway crash at Toronto Pearson International Airport and the stock market crash of 2008. ASP is still here and standing strong for our clients and our employees.
We have supported and raised tens of thousands of dollars for charities and charity drives such as Toronto Pearson's Runway Run, where right from inception of the run we shared the top donor spot with Air Canada. Other charities include the Hospital for Sick Children, Shelter Canada and ROCK (Reach Out Center for Kids), to name a few.
We won Best Large Service Business Awards with both the Etobicoke Chamber of Commerce in 2007 and again with Burlington Chamber of Commerce in 2019. Sharing the finalist podium with organizations such as Hamilton International Airport was a true honour.
We've done all this with the endless dedication of our front-line workers, people who we have grown to love and respect; the people whom I would personally like to thank for this success, for without which none of this would be possible. Thank you.
We've achieved all this with a sophisticated client base that have been supportive understanding partners, as our vision proves supportive to theirs. I personally, and on behalf of all of us would like to thank them for their patronage.
For making the lives of so many easier, for protecting us through the most critical times in our nation's history and for demonstrating honesty respect and courage, I thank all our employees, from the bottom of my heart, thank you and congratulations on 20 years.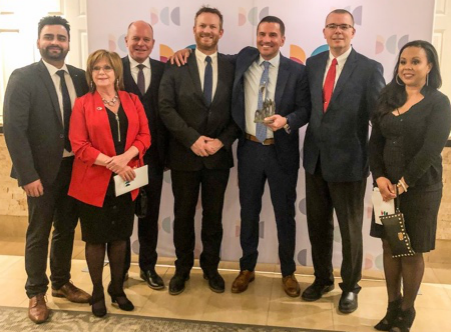 Today, we are more than 2000 strong across Canada, we are part of the ICTS Europe family, and, combined, we have a global reach that includes 22 countries and 17,000 security professionals.
I can safely say that 20 years later, we not only walk on our own… we walk together.