Celebrating our Women at ASP
By Neeru Panjwani, Human Resource Manager – Aviation
International Women's Day (March 8) is a global day celebrating the social, economic, cultural, and political achievements of women. At ASP, we celebrate it every day because of the courage, confidence, and courteousness of all our female employees who make it happen every day. International Women's Day serves as a reminder to the strength of women, the beauty in diversity and the steps we have all taken in the positive direction.
As of last month, we have 886 female employees of total 2019 employees (almost 44%). We have also seen an increase in the number of female employees in our office and management positions whereby 44% of the group is represented by women employees.
ASP values workplace diversity and gender equality, which is evident in the number of women in our organization and the varying roles they occupy, ranging from Canine Handler, Security Specialist, Customer Service Agent, Resource Planner, Human Resources, Recruiter to Security Guards, which is extremely impressive in a traditionally male-dominated industry.
On this occasion we requested our women employees to send in their testimonials on how they feel as a Working Woman at ASP or Working Woman in Security. We are happy to share their views with everyone.
Ravinder Chhina – Security Supervisor at Calgary International Airport
Ravinder Chhina is a Supervisor at YYC Calgary International Airport. She has been working in security for 18 years and loves what she does. She always feels very respected not only by other ASP staff, but also by the entire airport community. As a woman in security, Chhina feels that she is very safe in her work environment and appreciates that everyone looks out for each other and works hard as a team to achieve shared goals. She feels that she is always treated the same regardless of her gender and this makes her feel like an equal and that her voice matters. When asked why she chose to work in security, she responded that "it's not why security, it's because I am security".
"As of last month we have 886 female employees of 2019 total employees – almost 44%"
Melicia Gregory – Security Guard at Toronto Pearson International Airport
"Working at ASP has been such an honour. I have had such a wonderful opportunity of meeting like minded individual and strong women within the company. Working in a field that is often male dominated, it is a joy to know that ASP supports women in security and has given me many opportunities within the security field."
Diana Forbes – Security Specialist at Toronto Pearson International Airport
"Being a woman in the field of Security is a lot to manage and balance but to be treated equal and to get the respect when wearing the uniform makes it all worthwhile. Women are caring, thoughtful and reliable and put others needs before theirs. It takes hard work and leadership to keep workplace area safe and secure.
Being a female Security Guard is having a positive attitude, being polite, respectful, caring, and cautious. Customer Service is most important. Being soft spoken yet firm while trying to deal or handle a situation/matter is the key.
Being a Female Security Guard is and amazing and fabulous experience. It also gives me Customer Service experience and the benefit of interacting with the public. It gives me the opportunity to be myself and the honor of representing ASP where I work each and everyday. I really and truly enjoy being part of ASP Security Family. Blessed and thankful to be part of a company that welcomed me with open arms. Thank you and keep going strong and positive."
Karen Mahabir, Elizabeth Purnwasi, Khadija Beale – Operational Support Representatives at Toronto Pearson International Airport
"Everyday at ASP feels like Woman's day!"
"to be treated equal and get the respect when wearing the uniform makes it all worthwhile"
Jenelle Kunkel – School Crossing Guard
"It is wonderful to be a woman in safety, and if it's not, we need to make it be. I feel strong and empowered, like a woman can do anything. It gives me confidence and raises my self esteem. The connection I have with others has a big impact on me in a positive way."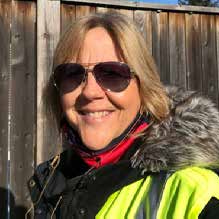 Jennifer Mitchell – Security Guard at Greater Sudbury Airport
"I work for ASP at the Sudbury airport and I love my job here."
Noreen Khan – Security Guard , Residential and Commercial Division
"I'm proud to be working as a female security guard. What I learned from my experience is that being a good Security Officer isn't just about how to have the physical strength to defend someone, it's more about communication, attention to detail, multi-tasking and empathy.
Women are usually better than men at dealing with males in heated situations. We're good mediators and we're able to get people to see another side of the argument and to just 'quiet down' and take some time out, which in many incidents is enough to quell a situation.
Women are also great communicators and that's a key skill for front-line Security Guards. Strong communication is ideal on the ground to ensure all team members know exactly what they're doing."
"being a good security officer isn't just about how to have physical strength to defend someone or something"
Anna Cappuccitti – School Crossing Guard
"Greeted every morning by the beautiful smiles of my children makes my day every day. Knowing that I am keeping the children and their parents safe always makes me proud to be a School Crossing Guard.
I was told by one of the parents that I have the most important job of all. I take this to heart, and I can see that everyone is appreciative of what I do. Crossing them safely across the street, keeping the sidewalks clear of snow, salt and any other debris, (311 has gotten to know my name) and even keeping the children company when their parents are late. I want them to know they can trust me.
On this Woman's International Day, I want to express that behind the SCHOOL CROSSING STOP SIGN, I stand as a confident and proud woman."
Maria Estrella – Security Guard at Toronto Pearson International Airport
"21 years ago I started this grateful journey of having a job as an Access Control Officer
I consider myself a hardworking person, a fighter and proud to be a woman. I like my job and I love what I do.
Every day I come to work with my best wishes to be able to help build a better country. With the satisfaction of knowing that I have given the best of me to the service of the airport community, and to make every day not just an a ordinary day a much better day knowing that I've done my job.
Queeneth Nkanga – Crossing Guard
"I am delighted to have the opportunity of contributing to the overall effort of ensuring the safety of our children. The best part of my job as a crossing guard is having the privileged platform of impacting every child that I have worked together with the best knowledge needed for a happy and successful life – LOVE. God bless our children."
"On This Women's International Day, I want to express that behind SCHOOL CROSSING STOP SIGN, I stand as a confident and proud woman."
Zaina Syed – Security Guard , TPIA
"I have been with ASP for 7 months now and I can confidently say that as a woman, I have never felt more equal to my male counterparts in a professional environment than I have with this company! Competency, performance, hard work, professionalism and respect are of the utmost value here. Women and men alike, we are all seen as equal power to keep this ship sailing. Happy International Women's Day to all!"