Contact Tracing
By Laurel Woodhouse, Health and Safety Manager
The Ontario Government amended Ontario Regulation 364/20. Which adds a requirement that the person responsible for a business or organization that is open, operate the business or organization in compliance with the advice, recommendations and instructions issued by the office of the Chief Medical Officer of Health on screening individuals.
At ASP, we are doing just that by utilizing an online tool called "testalerts.com".
This active screening occurs before or entering the workplace at the beginning of a shift, or upon the arrival.
Reminders are sent out regularly to remind ASP employees.
NOTE: IF ANY OF THE ANSWERS TO THESE SCREENING QUESTIONS CHANGES DURING THE DAY THE EMPLOYEE SHOULDINFORM THEIR SUPERVISOR OF THE CHANGE AND GO HOME TO SELF -ISOLATE EMMEDIATELY AND CONTACT THEIR HEALTH CARE PROVIDER OT TELEHEALTH ONTARIO TO GET ADVISE
HOW IT WORKS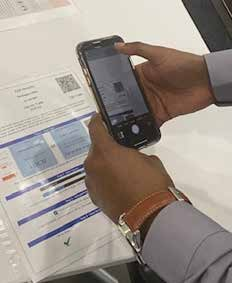 STEP 1
You will be asked to either Go to testalerts.com using your phone and enter Survey Code ###### – You have been provided by your Supervisor.
OR
Scan QR that is shown on the POSTER at entrance to ASP sites by Using Phone Camera. Get QR code in the viewfinder and wait for the link to appear.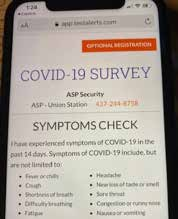 Answer the questions.
For Each Question, Tap Either Left or Right. All Questions must be answered to be able to submit.
Optional Registration
Saves time from inputting your name and number each time.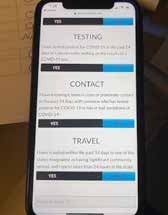 STEP 3
Check the box to acknowledge you have read and accepted The Terms of use and Privacy Policy
If you're not registered, you will need to fill in your name, email and/or phone to identify yourself.
If you're not registered, you will need to fill in your name, email and/or phone to identify yourself. This will allow us to know if anyone answers "Yes" to any of the questions and act accordingly and conduct contact tracing if it becomes necessary. Thank you for participating – Just another way ASP Securities is looking to make the workplace safer.
Those employees whose work responsibilities involve traveling to multiple locations as part of their day or shift. It is the responsibility of the ASP to conduct screening and not that of the receiving business organization. However, such screening may not exempt a employee from being screened by another workplace if the employee is seeking entry into different types of premises.