STAR Program School Crossing Guard Recognition Initiative
By Asad Abbas, RES/CIC Operations Manager
At the end of every term, the top 3 in each category will receive an excellence pin to wear on their lanyard along with a prize (gift card of their choice). 1st place winner from each category will be awarded a $100 gift card, 2nd place winner will be awarded a $50 gift card and 3rd place winner will be awarded a $25 gift card. A Grand Prize will be awarded at the end of the year to who has the most stars overall from all 3 terms
Crossing Guards are a very important part of the ASP family. At the end of the last year, the City of Toronto asked ASP to stop providing CG services because of schools' closure. This closure of Crossing Guard Services remained in effect till 15th February 2021. This was definitely a difficult time for all of us. We resumed crossing guard services on 16th February 2021.
It is very important for us to use every opportunity to recognize our crossing guards. Therefore, we have created the STAR program. The STAR Program is created to improve crossing guard morale and engagement, by providing on the spot recognition to those who are "caught" going above and beyond. The program is designed around 4 categories: Following Proper Procedures, Customer Care, Attendance and Public Appreciation that directly impact the overall customer experience and Crossing Guard efficiency & effectiveness.
Each Crossing Guard with an active crosswalk will receive an ASP Lanyard with the Star Program tracking card attached. Delivery will be via site visits from our Mobile Supervisors. Whenever a guard is observed going above & beyond, they will be issued a color-coded sticker to attach to their card. Stars will be awarded on the spot daily by Managers, Supervisors, and on receipt of Public, City and Other Crossing Guard's positive feedback. The guards with the most stars in each of the categories at the end of every term will be rewarded with gift cards of their choice. With recent COVID-19 shutdowns, our Crossing Guard services are currently on hold. We look forward to welcoming back our guards in the fall.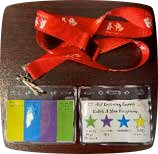 ASP Lanyard
with STAR Program
Tracking card
Residential and Commercial News