Asian Heritage Month
By Neeru Panjwani, Human Resources Manager
Asian Heritage Month is an opportunity for all Canadians to learn more about the many achievements and contributions of Canadians of Asian descent who, throughout our history, have done so much to make Canada the amazing country we share today. It is celebrated throughout the month of May every year.

The theme for Asian Heritage Month 2021, "Recognition, Resilience, and Resolve", embodied the myriad of sentiments that peoples of Asian descent in Canada have experienced and honours their contributions and their diverse stories which are rooted in resilience and perseverance. It is also a call to action for all Canadians to come together to combat all forms of anti-Asian racism and discrimination.

At ASP, we held a round table discussion on the topic that was chaired by Ms. Joanna Zhang who works as an Executive Assistant at the GTAA and Ms. Fanny Tran who works at the Billy Bishop airport with ASP. The round table was attended by our employees who came together to share their stories, experiences and their views on being an Asian in Canada and recent uptick in Asian Hate Crime. The conversation was open, informative and needless to say, emotional. There was a huge focus and consensus on the need to educate and groom our next generation in a way that they don't see the world in a compartmentalized way and stereotype people based on how they look.

How we can fight anti-Asian racism Racism, in any form, is unacceptable and has no place in Canada. It runs counter to the values and spirit of the diverse and inclusive society that we strive to build. It is our collective responsibility to step up, be allies, and stand together against xenophobia, hate fueled by misinformation and all forms of racism including anti-Asian racism.

Here are some ways we can all contribute to tackling anti-Asian racism and building an even better and consciously more inclusive society where everyone is able to participate fully:
• Learn about pan-Asian diversity and the unique identities and cultures that have enriched Canadian society
• Challenge stereotypes and consider how they are rooted in the history of anti-Asian racism
• Show solidarity with Asian communities in Canada, i.e. by supporting local Asian businesses and organizations
• Be an ally – call out acts of racism, discrimination, and micro aggression and actively support those victimized by anti-Asian racism
• Interrupt unconscious biases and consider how they can affect your behaviour and decision-making
As a Canadian of South East Asian descent, I am proud of my culture and beliefs. A hallmark of Asian culture is an emphasis on respect—for elders and superiors, in particular. I consider it a beautiful aspect of Asian culture, but it's often misconstrued and warped. It's used as a trope, painting Asians as defenseless and weak. In spite of it, I refuse to let go of my profound sense of identity. Canada is the world's melting pot that welcomes everyone with open arms. There will always be cultural differences but there are more commonalities than differences. It is truly in seeing the people of all cultures, through their stories and lived experiences, that we are able to expand our understanding of each other and our world views.

It took me a long time to get here, to develop an appreciation for my Asian roots, to be able to call out prejudice when and where I see it. It holds true for many of us who came to this beautiful place to raise our family. We must take the time to celebrate each other, learn about one another and take pride in the part we have all played in Canadian history regardless of our racial, ethnic or religious identity because we are all Canada!
ASP Asian Heritage Month Round Table chaired by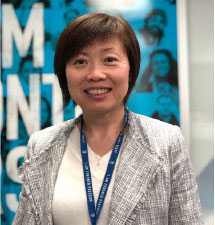 Ms. Joanna Zhang
Executive Assistant, GTAA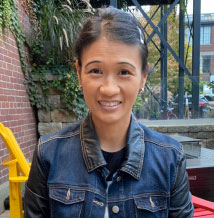 Ms. Fanny Tran
OSR – Billy Bishop Airport