RES CIC Update
By Vasilis Androutsos, Manager - Operations
Thank you very much! These to me are words of appreciation and gratitude that I can say to any guard who performs their duties between the hours of 10:00p.m. – 7:00a.m. Globally, the majority of people have the standard workday from 9:00a.m. to 5:00p.m. In the Security industry, a "standard" shift differs significantly. This is because clients and stakeholders understand the importance of what could happen during off-peak hours. Our RES/CIC division has a balanced scope of work that requires our guards to provide coverage and service our clients needs, 24 hours a day. For any guard who is looking to commit to working the night shift, it can be a mentally and physically stressful change that will alter your current routine.
Below are some tips to help alleviate the stress of working a night shift
Plan your work schedule ahead of time.
Plan your sleep schedule as best as possible and adjust your sleeping environment.
Plan your meals, accordingly, consume well balanced meals and ensure you regularly hydrate with water and limit your caffeine intake.
Seek assistance by regularly conversing with colleagues, family, friends, medical professionals or through our Employee Assistance Program (EAP) if you feel any sleep deprivation, depression, loneliness, or other symptoms that require support.

Employee Spotlight:
Richard Fearon
I recently had the pleasure of speaking in-depth with Richard Fearon, who is one of the RES/CIC Mobile Patrol Supervisors that primarily performs his duties in the evenings. Richard is a very hard working and dedicated individual. He has 20+ years of experience in the Security Industry and has been a valuable and contributing team member wherever he has applied his trade. He has a unique skillset that lends itself to being a great coach/ mentor for many or our front-line security personnel. I
look forward to everyone meeting Richard on a different level and hope all of you will get a different appreciation for the guards who are tasked with working evenings.
What are your duties and responsibilities as the evening Mobile Patrol Supervisor?
My responsibilities during my shift include:
Administering on-the-job training
Inspection of front-line guards for uniform compliance, job performance and knowledge of Health and Safety protocols
Resolve any conflicts between front-line guards and general public that may arise
Conduct investigations
Ensure employees have the necessary equipment to do their jobs.
What do you like most about your job?
The most rewarding aspect of my job is the human interaction I get to experience. Meeting people and having the ability to help or change their lives in any way is rewarding. I also enjoy that I am able to make decisions within the scope of my duties.
You have been working on the night shift for almost 20 years. What is the best thing about working this shift? What is your least favourite thing?
I enjoy working nights due to my ability to work independently with little to no supervision required. In my experience working nights has allowed me to grow in terms of making decisions that give the best results.
What is the most rewarding aspect of your job?
The most rewarding aspect of my job is having the ability to truly satisfy clients, or the general public. It means a lot to me knowing I have made a difference in someone else's day.
In your opinion, how has the Security Industry changed over the course of your 20+ years in the industry?
The biggest changes I have seen is the attitude of the front-line workers and how they perceive their job. I have also noticed the vast expansion of the industry itself.
What's a fun fact about you many people may not know?
A fun fact about me many people may not know is that I tend to be the life of the party. I don't need to receive praise for my work as I genuinely enjoy helping people.
What do you like most about working for ASP?
I like being able to obtain large contracts and being recognized as an industry leader. ASP makes an effort to hire and promote from within which is also something I like.
Any words of wisdom for your fellow colleagues?
ASP is bigger than just one person. It takes a team with different skills to build what ASP has accomplished. Work together and have the tough conversations because it is the only way to grow and become a great team.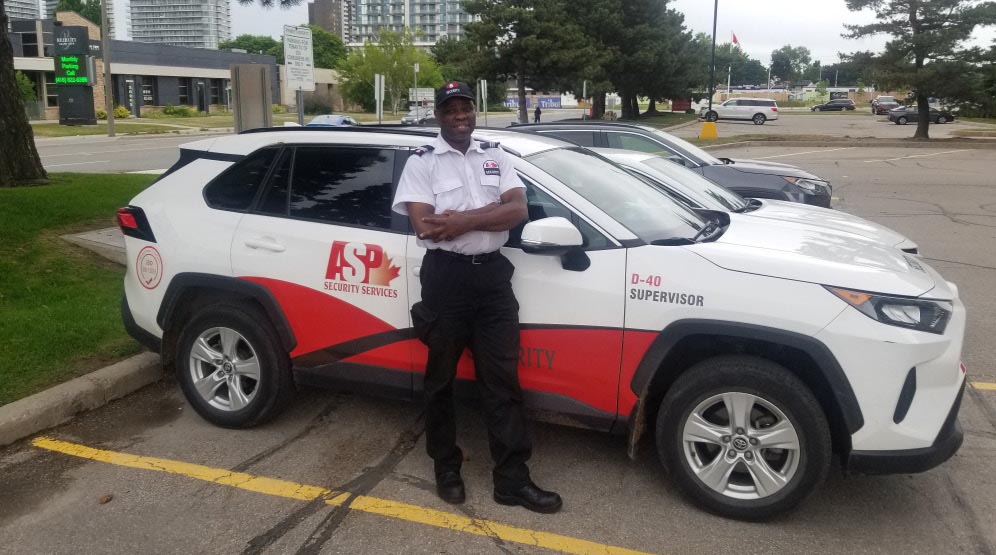 Residential and Commercial News