Crossing Guard Spotlight – Joseph Melo
By Sarah Miller, Operations Manager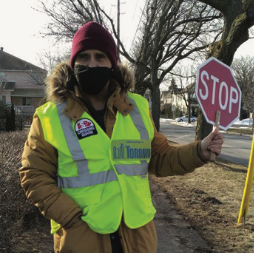 Mobile Patrol Supervisor George Papachristos would like to recognize Joseph Melo's hard work and dedication to the crossing guard division: "Joseph is a fantastic part of the team. Every time I visit his crosswalk there are pedestrians that stop to tell me how well organized and attentive he is as well as how he's kind and thoughtful to the needs of everyone around him.
He's a true safety ambassador and very vigilant to his surroundings. He is very confident at his crosswalk and has developed meaningful relationships with the people around him."
ASP appreciates all the good work he does serving the community. Thank you, Joseph!