RES/CIC Updates!
By Sarah Miller, Operations Manager, Crossing Guards
Sonia Mehta & Doug Ford
ASP Security was delighted to have Premier Doug Ford visit a group of our fantastic school crossing guards in Toronto on May 12th. His kind words about how much he values their contribution to keeping the City of Toronto safe were greatly appreciated!
Phil Marinelli
Please join us in congratulating Phil Marinelli on his promotion in May to the Toronto RES/CIC Mobile Patrol Supervisor team.
ASP celebrated its frst School Crossing Guard Appreciation Day this year on March 24th!
George Papachristos (left), Dean Lovric (middle),
Sarah Miller (right)
On April 13th School Crossing Guard Division Mobile Patrol Supervisor George (GQ) Papachristos received ASP's CEO Award for Leadership Excellence, presented to him by Operations Manager Sarah Miller and Director of Operations John Stolte.
Congratulations, GQ!
Lola Abraham
Lola Abraham joined ASP in April 2022 as a recruiter for the School Crossing Guard Division in Toronto. She brings a wealth of experience in human resources, customer service, and recruiting.
Her educational background includes a Bachelor of Economics and she is currently enrolled in the Human Resources Management diploma program at Seneca College.
Lucy Nguyen
Please join us in welcoming Lucy Nguyen as the new Front Office Coordinator for Toronto as of May 30th. Lucy's experience in customer service, human resources, and business management make her a great asset to the team.
Welcome to ASP, Lucy!
Sarah Miller
On May 5th Operations Manager Sarah Miller APP, PST,SAS (center) presented at the ASIS Toronto Best Practices Seminar about the impacts of COVID-19 on security operations for an audience of 200+ security leaders from across Canada.
Sarah currently oversees the School Crossing Guard Division in Toronto
Kadina McKenzie & Jay Ritchie
Congratulations to Toronto Training Coordinators Kadina McKenzie (left) and Jay Ritchie (right),seen here with National Training Manager David Ramlagan (middle),for becoming certifed in May as StaySafe Use of Force instructors and in April as Rescue 7 First Aid/CPR instructors.
Juleisha Sinclair
The School Crossing Guard Division would like to recognize Juleisha Sinclair for her enthusiasm, positivity, and compassion while crossing pedestrians at her intersection. Juliesha has a glowing personality and is always smiling.
She never forgets anyone's names and even waves at passing motorists who also honk their horns when they see her.
Thank you Juleisha for your continuing excellence within the team!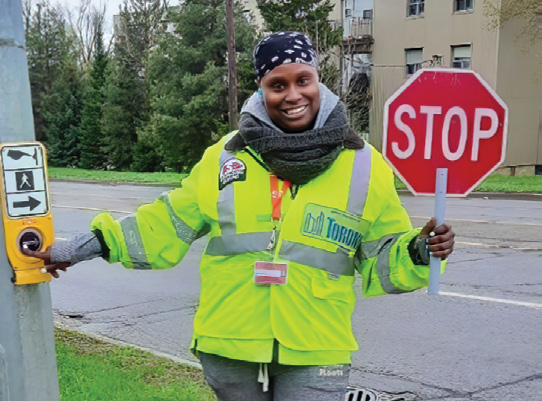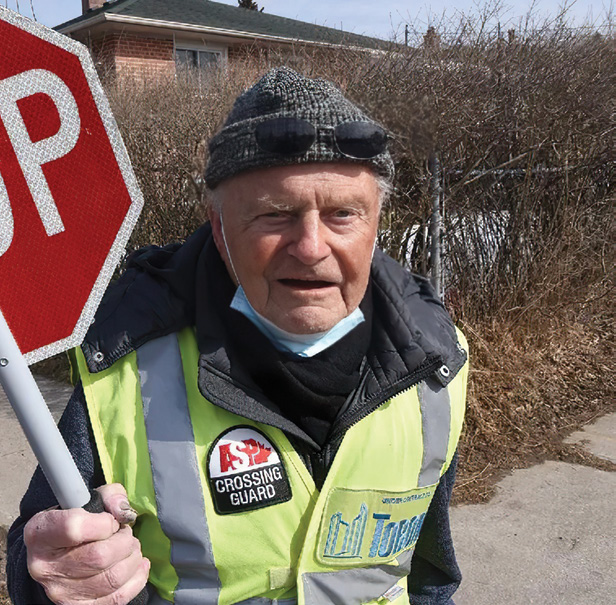 Toronto star
On April 21st one of ASP's longest serving crossing guards, Karl Bruckmueller, was featured in a Toronto Star article.
Karl has been supporting children at the Fenside Drive and Lynedock Crescent crosswalk in Toronto for seven years and is well-loved by his community. Thank you for the great work you do, Karl!
Read the article at:
https://www.thestar.com/local-toronto-north-york/ news/2022/04/21/now-86-north-york-crossing-guard- still-loves-his-job.html