A Professional ASP Team of Dedicated Guards
By Humberto Pimentel, VP of Operations
I had the pleasure to meet three ASP guards who work at Suez Water Technologies in Oakville who were recognized by the customer for outstanding services and dedication. Terry Case from Suez commented that "he was very pleased with the guard's performance over the years and thankful for their professionalism and perfect attendance".
Because of the excellent service, Suez have renewed the contract with ASP for an additional 3 year's effective December 1st, 2022.
Congratulations gentlemen and thank you for your dedicated customer service.
Thank you to Respite Operations Manager Kat Szumacher, Respite Supervisor Eric Damaso, and Respite Guards Shanalee Hope and Gurkirat Kaur for participating in a charitable event at the City of Toronto's 1A Strachan respite center on November 08. ASP collaborated with the Toronto Police Service's 14 Division Community Police Liaison Committee to distribute free reflective armbands, flashlights, and whistles to the shelter clients as a street safety initiative. This charitable event was organized and fundraised by School Crossing Guard Operations Manager Sarah Miller.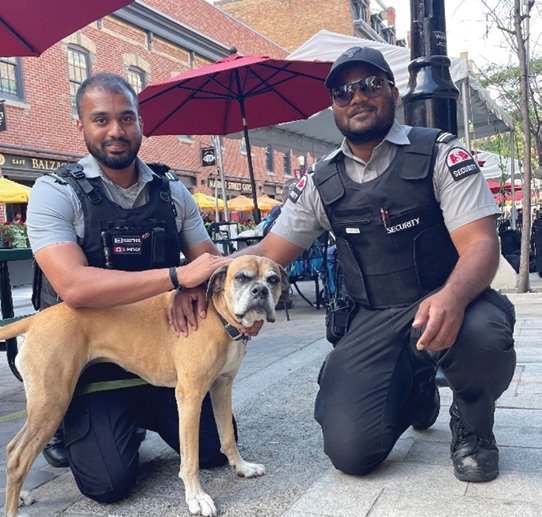 It's a great day when you get to pet a cute dog on patrol. Seen here, MPS Shine Mathew and MPS Manish Munukuntla make a furry friend at St. Lawrence Market in Toronto.
Residential and Commercial News