Employee Spotlight – Ahmedsadik,Marsela, Surinder, Tajinder
By Noman Butt, Operations Manager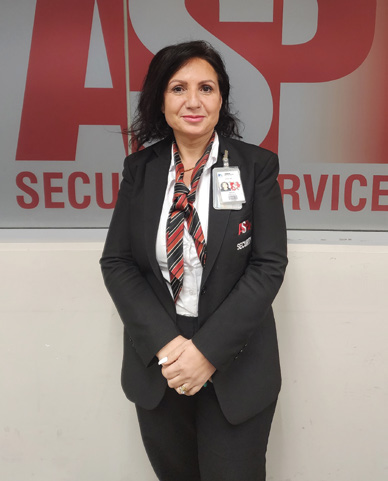 Marsela Mecaj
On September 12, 2023, at the T3 KLM Lounge Upgrade Ceremony, Marcela showcased her exceptional skills and professionalism while assisting a large group of clients. One client who attended the T3 KLM Lounge Upgrade Ceremony had this to say about Marcela's contribution: "Please note that Marcela was also a star and assisted with this large group so professionally."
Marcela's dedication to her work and her ability to lead within a group setting have consistently exceeded the expectations of our clients. Way to go Marcela!
Surinder Sandhu
Surinder Sandhu is a remarkable individual who has been tirelessly safeguarding one of the most challenging posts at Terminal 1, and she has gained a track record in Terminal 1 in thwarting security breaches. Surinder has successfully detected and halted several attempts to breach security protocols and prevented potential threats from infiltrating the airport. Her keen eye for detail, quick thinking, and dedication to her role have undoubtedly saved the day on numerous occasions. Despite the myriad of challenges posed at that location, she has continuously demonstrated unwavering dedication and exceptional performance in her role, and she diligently ensures the security of passengers and staff alike. Her vigilance and quick responses have made the airport a safer place for all who pass through her post. Great job Surinder!!!
Ahmedsadik Isse
In the bustling world of airport terminals it's not uncommon for moments of panic and chaos to unfold. However, on one eventful day, the quick thinking and instincts of our vigilant guard Ahmedsadik prevented a potential catastrophe from occurring. The incident began when a young child was scared to step off the escalator Ahmedsadik promptly and without hesitation pressed the emergency button. The significance of Ahmed Sadik's intervention cannot be overstated. Had he not acted promptly, the escalator could have continued its descent, potentially triggering a domino effect of congestion and injuries. Ahmed's actions disrupted this potential chain reaction and ensured the safety of everyone on the escalator. His timely intervention not only protected passengers but also showcased his dedication to safety and his role as a guardian angel in the terminal. The Greater Toronto Airports Authority (GTAA) and ASP recognized Ahmedsadik's quick thinking and heroic actions. His timely intervention undoubtedly prevented a major incident and garnered appreciation for his dedication to safety.
Tajinder Sunner
In the realm of airport security, individuals like Tajinder are unsung heroes who ensure the safety of passengers and staff on a daily basis. Recently, an incident at Tajinder's post put her unwavering dedication to the test. She rose to the challenge and exceeded expectations, going above and beyond her duty by sacrificing her personal break time to assist in identifying a person involved in a security breach. She recognized the urgency of the situation and in a selfless act of dedication, Tajinder put the needs of the airport and its passengers above her own. She entered an aircraft to identify the individual responsible for the breach. Her commitment led to successful identification, ensuring that the appropriate authorities could take over the situation. Tajinder demonstrates the indispensable role played by dedicated security personnel in preserving the integrity and safety of GTAA. Keep up the amazing work!