Above and Beyond
By Asad Abbas, RES/CIC Service Delivery Manager
As you are all aware, the world is going through some tough times. We are lucky enough to be a part of a family organization that has so many talented, hardworking and dedicated people that allow us to be second to none.
I wanted to take this opportunity to recognize a few staff who have been absolutely amazing and have sacrificed so much over the last couple of months. Both Ibrahim and Miguel have taken it upon themselves to not only do their jobs well, but also to support everyone else around them. They have sacrificed so much of their family and personal time to make sure the business continues to run at a high level.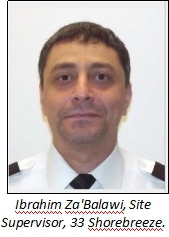 Ibrahim Za'Balawi is working as the Site Supervisor at 33 Shorebreeze within ASP Security. He joined ASP in July, 2018. He was promoted to Site Supervisor of 33 ShoreBreeze in August, 2019. He has more than 9 years of security experience.
Ibrahim has shown great leadership and dependability for the past one and half years, with praise from both his coworkers and clients. He is instrumental in implementing new policies on site. He has introduced different initiatives on the site for his team, which is leading to better team morale and efficiency. He is always willing to go above and beyond in protecting ASP's interest and reputation by helping his team and fulfilling the client's expectation. He is a very important member of our ASP family and I wish him best of luck. Keep it up Ibrahim!
Miguel Bermudez is working as a Specialist at St. Lawrence Market. He joined ASP in November, 2017 as a concierege. He worked very hard and was promoted to Specialist position in September, 2018.
He is always willing to help his team to assist with taking the site to the next level. He proved himself as a highly reliable member of his team which is why his team members rely on him heavily. In these difficult times we had situations where some of our staff had been quarantined and Miguel stepped up and showed great leadership and knowledge. He not only helped his team, but he made sure client expectations were met. He worked long hours and despite tiring schedules; he is always ready to do more. He is definitely a rising star and great member of the ASP family.