COVID-19 Response Solutions
"Security Matters"™
The COVID-19 crisis is dramatically impacting the aviation industry.
Our parent company, ICTS Europe – the aviation security specialists, the Company with Aviation DNA flowing in its veins, is addressing COVID-19 risks with solutions that will boost global confidence that "Flying is Safe".
Our approach is modular and intended to benefit as much of the Aviation eco-system as possible. From airports, airlines, regulators through to competitors, our objective is a simple one – to address COVID-19 risks through pragmatic solutions and increase global confidence in air travel.
We would like to share with you the
current initiatives we have taken in
ICTS Europe and jointly with
specialized partners.
Flight Reservations for
Passengers and Airlines
The Challenge
Countries will issue requirements for clearance of entry based upon COVID-19 related health criteria. The requirements will probably vary and eventually become dynamic. Reservation systems will need to provide quick, efficient and friendly feedback to passengers prior to their arrival to the airport in order to avoid last minute non-conformities resulting in refusals to fly.
The Solution
The COVID-19 related health requirements are being continuously integrated into our TravelDoc software as well as Immigration conformity. It will provide feedback to reservation systems and to passengers on compliance with the heath restrictions imposed by different countries.
Documents Verification and Security Processes at the Airport
The Challenge
As the volume of passengers grows, the handling of travel documents raises the risk of contamination to passengers and security agents, at touchpoints such as:
Inspection of passports by security agents
Placement of passports on self-service kiosk scanner
Handover of passport to check-in agents for printing boarding pass and bag tags
Checkpoint hand search, handing passports to airline staff for reconciliation at the gate
The Solution
ICTS developed a Software Development Kit (SDK) – CoviDoc – that can be embedded in existing airlines' applications, allowing for:
Contactless check-in process
Contactless self-service kiosk, including printing of boarding card and bag tags
Contactless reconciliation at the Gate
Touchless biometrics for identification and body temperature verification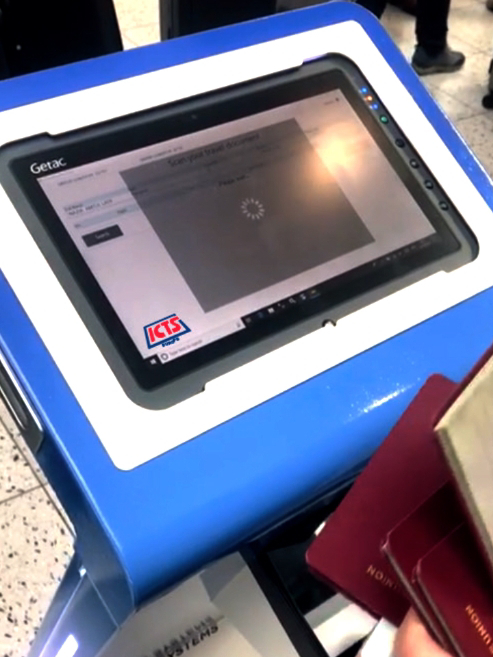 Sanitation of Baggage, Equipment and Surfaces
The Challenge
Airports are searching for efficient means to disinfect areas and surfaces to reduce the risk of contamination through baggage handling, use of kiosks and physical contact with airport facilities.

Airlines are also seeking quick, efficient means to disinfect aircraft between flights.
The Solution
A new ICTS joint venture will offer new capabilities and expertise on UV light sanitation technology that will allow rapid, safe and effective disinfection of:
Aircraft cabins
Catering trollies
Luggage items upon arrival to destination
Rooms, offices and corridors
Kiosks touchscreens and passport scanners
Social Distancing
Enforcing Guidance at Airports
An ICTS joint venture will offer new software and live streaming capabilities for use within Airports. The solution combines video analytics software and AI with our operational presence.

Key features include:
Geofencing capability to identify and monitor areas where people gather, or do not adhere to guidelines
Group of people detection capability
Enforces containment rules based on required parameters
Detection of COVID-19 Symptoms
For Passengers and Staff
ICTS developed comprehensive, multi-layered approach for detecting staff or crew with health risks, combining technology, processes, and specialized personnel:
Document /token/QR based validation of status
Unique vital signs detection technology, with high-flow, crowd observation capacity
Body temperature measuring technology – independent kit or embedded in the process
CoviDetAct – a new behavior and appearance detection technique, designed to identify – and resolve – health risk signs
CoviDetAct Agents, aided by thermal cameras, to confirm or resolve health signs detections in a safe and -friendly manner
REQUEST A CONSULTATION
To speak with someone on the ASP Security Services team about your security needs, please provide your contact information below.
For Employment Opportunities, click here.